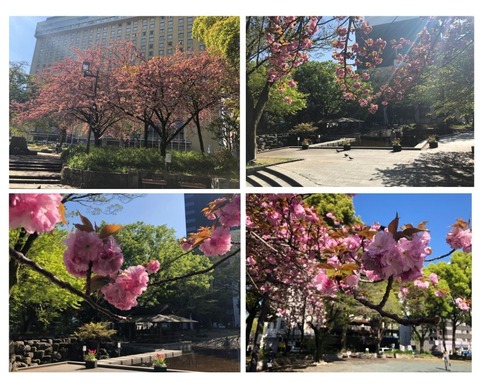 Please click photo ↑↑↑! You can see All photos!(写真をクリックすれば、全ての写真が見れます!)
☆Link to the caption in English!(英語)
☆Link to the caption in Japanese!(日本語)
☆Access Map
Attention : All photos on this site are taken by me.
If you use photos on this site,please be sure to write source URL "http://lovelovejapan.com"!
注:このサイトの写真は全て私が撮影したものです。
もし利用する場合は必ず出典先「http://lovelovejapan.com」を記載して下さい!
☆☆☆The caption in English!☆☆☆
I took these photos on Apr.18th,2019.😊
This place is Simozono Park in Nagoya City.
This park is small.But it's beautiful park.
It's one of my favorite park.😃😃😃
There is near my office. So I often have rest at this park .👌👌👌
This park is near Fushimi Station of Higashiyama line.
And It's opposite Nagoya Kanko Hotel.
There are double cherry blossoms trees in this park.
These trees make beautiful flowers bloom in this season.
I'm looking forward to see these beautiful flowers every year in this park.🌸🌸🌸
Double cherry blossoms bloom about two weeks later than "Someiyoshino".😲😲😲
*"Someiyoshino" is kind of sakura we can see the most.
Petals are piled up! So beautiful.😍😍😍
If you come to Nagoya in this season,how about seeing double cherry blossoms in Shimozono Park!
I recommend.😃😃😃
Thank you(^_-)-☆
☆☆☆日本語の記事!☆☆☆

この写真は2019年4月18日に撮りました😊
ここは名古屋の下園公園です。小さな公園ですが、とてもきれいな公園です。
私のお気に入りの公園のひとつです。😃😃😃
勤務先の近くにあるのでよくここで休憩します。👌👌👌
東山線の伏見駅の近くです。名古屋観光ホテルの向かい側にあります。
この公園に八重桜の木があり、この季節に見事な花を咲かせます。
毎年この季節に下園公園で八重桜を見ることを楽しみにしています。🌸🌸🌸
八重桜は一番よく見る桜(ソメイシノ)より2週間ぐらい後に咲く遅咲きの桜です。😲😲😲
花びらが幾重にも重なってとてもきれいです。😍😍😍
この季節に名古屋きたら下園公園で八重桜を楽しんでみてはいかがでしょうか!
おすすめですよ。😃😃😃
ありがとうございました(^_-)-☆
☆☆☆Photos(写真)☆☆☆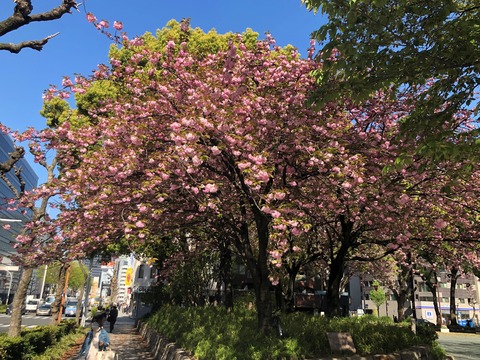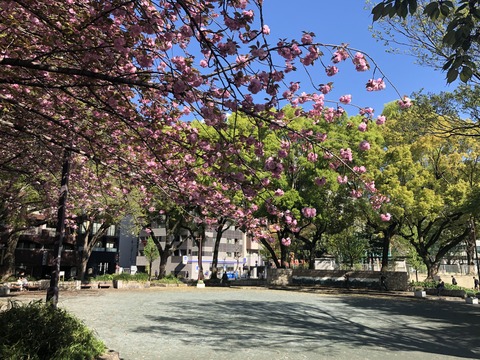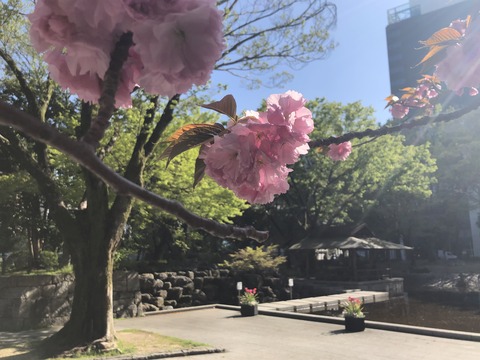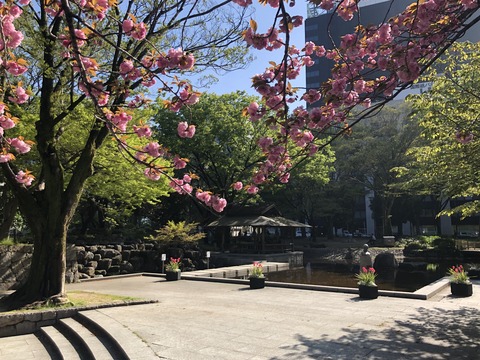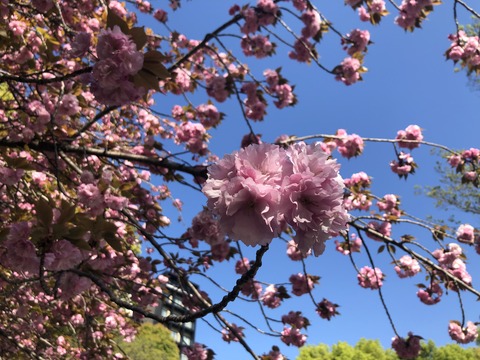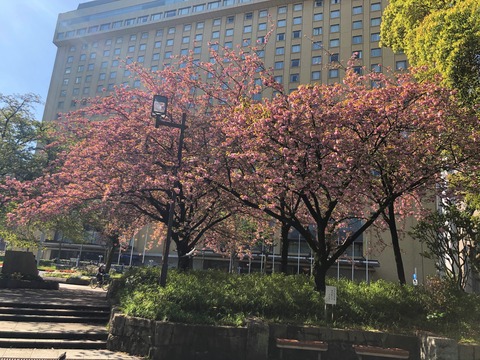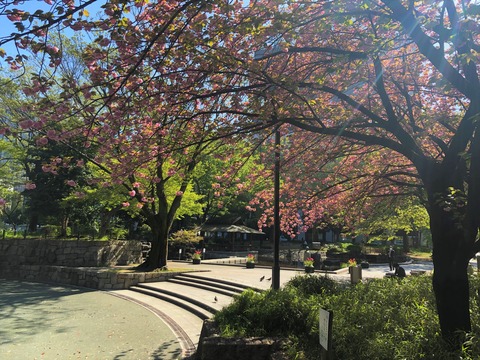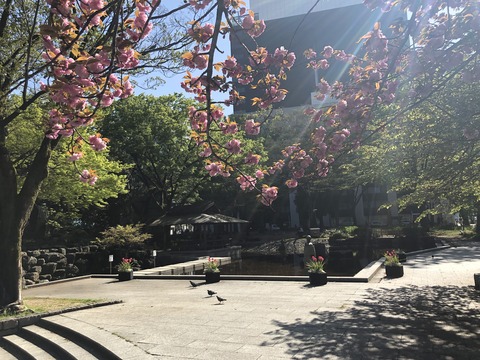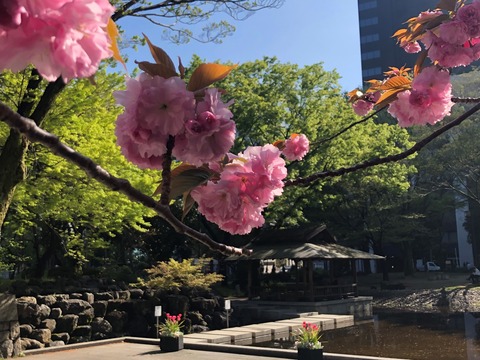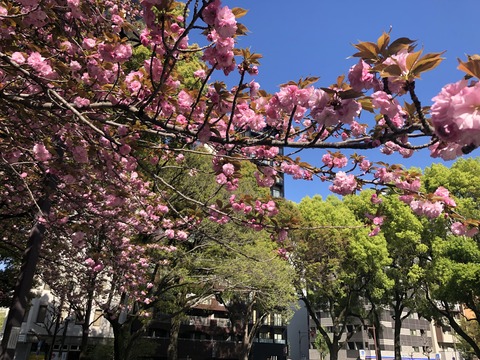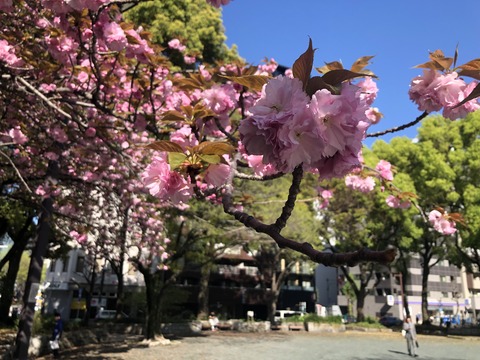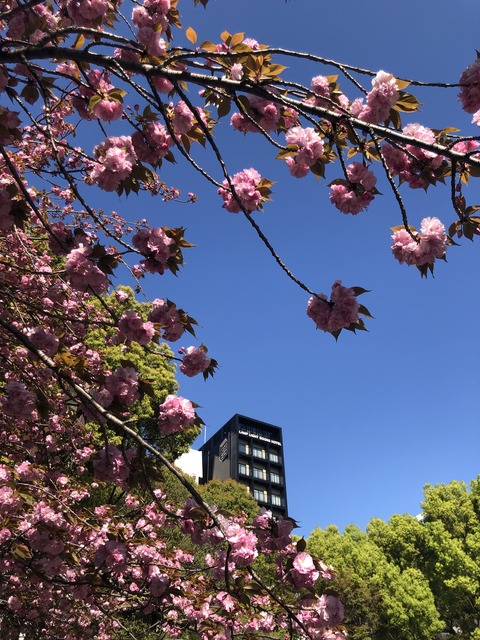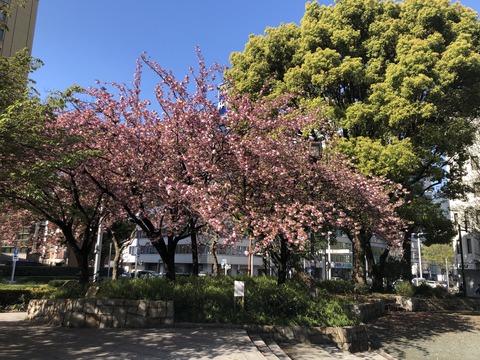 Top of Page(ページトップへ)